Overview
The Roll Forward report makes it easy to see period over period changes in account balances and to understand the underlying activities causing those changes to occur. It does this by providing summary opening & closing balances, trending balances by fiscal period and lease-level activity.
The report can be used to review financial information, close reporting periods, perform balance sheet reconciliations and present useful information to the senior management and auditors.
Note: The Roll Forward report is currently only available for Lessee reporting. It will be made available for lessor or SBITA reporting at a later date.
Structure
The report is split into three worksheets:

Summary - Provides a summary of opening and closing balances and movement for the period selected.

Trending - Provides the same opening and closing balances as the summary tab adds additional detail by breaking apart the movement data by fiscal period.

Transaction Level - This tab provides information to the user for accounts and leases at transaction level.
Additional notes
The report covers not just the Balance sheet accounts but the Income statement accounts as well. This is to enable customers to perform broader analysis.
For balance sheet accounts, the report includes account activity, plus opening and closing balances. Income statement accounts only include account activity as they do not have opening and closing balances. 
The gray fill color on a row indicates the row is a summary calculation based on data from the Transaction worksheet.
The report can be run in 000's or millions using the Display amounts option in the report window.
The transaction level tab can include many thousands of rows, which can be overwhelming. Consider running the report for a limited set or leases or account number groups using Special Options.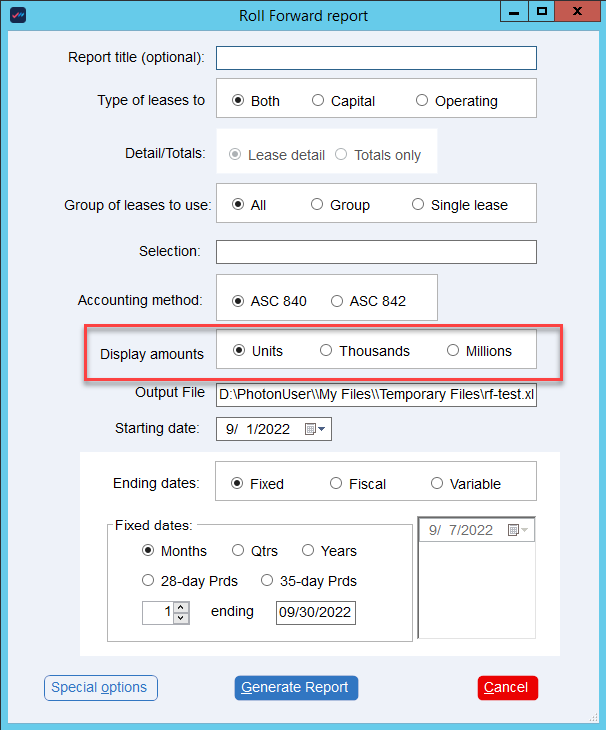 Example Roll Forward report