Scenario
I entered the lease, and it was later renewed/ revised. Revision 0 is not showing a classification under ASC 842, so it's skipping the whole lease whenever I try to run a report. When I try to unlock the lease, it goes to the revision and won't let me go back to revision 0.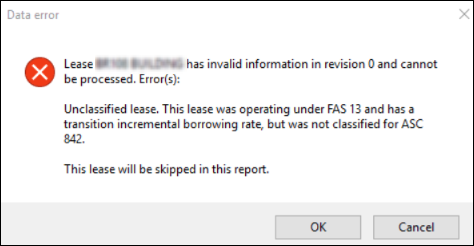 Solution
To resolve this problem, go to File/New Standard Updates and click on Classify All Leases. This will reset the classification for all revisions for ASC 842. After doing this, the ASC 842 classification for revision 0 will be "Not Applicable" rather than "To Be Classified," reflecting the fact that the end date for revision 0 is before the customer's ASC 842 implementation date.
Reports will run correctly once the lease is set that way.