February 2022 Release Summary
The February EZLease update includes the ability to limit which leases users can view (Scope of Access), reporting improvements, and streamlined file management.
Scope of Access
Use the new "Scope of Access" feature to gain better control over your lease portfolio by ensuring users can only view and run reports on a subset of leases. Read our support article to learn how to enable Scope of Access.
*Note: Instant Reports do not currently work with Scope of Access controls. Scope of Access will be extended to work with Instant Reports in a future release.
Reporting
We've reorganized the list of reports alphabetically and improved Excel reports by making the report header easier to read. For the Journal Entry report specifically, we removed empty columns to make it easier to run pivot tables and import data into other systems.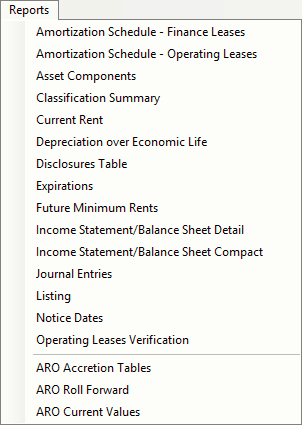 Additionally, the Current Rent report can now be run from the Instant Reports tab, making it easier than ever to understand your monthly rent expenses.

File management
Sometimes, it's the little things that count...
Files can be deleted by accessing the new "File Management" workspace, and clicking the "Delete file" button.

When opening a file, you can double-click the file as opposed to selecting the file then choosing "open."

Saving files is also easier as the Save button will become enabled when you type in a file name (previously, you had to type in a file name and then click another button to enable the Save button).


Accounting updates
In rare cases, reporting outputs may vary between the previous and new versions of EZLease. See the table below for a complete list of scenarios in which report outputs could vary.
Accounting scenarios and impact analysis
ASC 842
IFRS 16
GASB 87
Lessee
Lessor
ARO

Scenario: If a lease has recognized options, the classification report (text output only) based the lease term test on only the initial term, not the options.

Impact: The classification report shows the lease term test including all recognized options.

x
x
x
x
x

Scenario: If a lease is early terminated and the system option to show descending balances for amortization schedules is chosen, the amortization schedules report shows the liability and asset at the time of termination, rather than 0.

Impact: The row for the termination period now shows liability and asset balances of 0.

x
x
x
x
x

Scenario: If the asset adjustment is changed as part of a lease revision, the journal entries report shows a double entry: both a revision gain/loss, and an addition or termination gain/loss. The report is then unbalanced.

Impact: Only revision gain/loss is now shown, and report is balanced.

x
x
x
x

Scenario: IFRS/GASB only: If an old standard operating lease has a guaranteed residual and a non-zero estimated guaranteed residual payable, and is in the middle of a rent payment period at the transition date to IFRS 16/GASB 87, reports show post-transition entries for operating rent expense and deferred rent liability.

Impact: No operating activity is shown after transition to IFRS 16/GASB 87 finance lease.

x
x
x

Scenario: If a GASB or IFRS lessor lease is shortened in a lease revision, an out of balance error is reported.

Impact: A revision with a shorter term now is reported correctly.

x
x
x

Scenario: If a GASB 87 lessor lease has a lease incentive greater than the receivable, the lease was set up incorrectly. Journal entries were unbalanced, but an IS/BS report ran with no errors.

Impact: Lease is now set up with an immediate loss and no deferred inflow of resources.

x
x

Scenario: If an ARO gets an additional layer in the same period as an existing layer's asset adjustment is altered, the journal entries report is out of balance. The change in the asset adjustment is applied twice, both to the setup and to a separate adjustment gain.

Impact: JE report is now balanced, with the asset change shown only as part of the setup.

x
x
x

Scenario: If an ARO has both a positive and a negative layer, and the negative layer has a later end date than the positive layer, the ARO sometimes shows a Revision of Estimates entry for the asset, but none for the liability. No change is actually happening for the ARO.

Impact: EZLease now checks for this situation both on input and when running reports, and reports an error; no output for the ARO is created. A negative layer should never go beyond the last positive layer.

x
x
x

Scenario: If a revision to an ARO layer happens on the first day of a report period, and the reduction in liability is greater than the remaining ARC asset for that layer, but another layer still has asset which can be used, the amount of asset available is miscalculated, resulting in an incorrect calculation of gain, and inconsistent reporting with a report which has the revision in the middle of a report period or before the report begins.

Impact: Reports are now consistent no matter what the start and end date of the report. Revision gain/loss is different from what was previously reported if a revision is booked on the first day of a report period.

x
x
x
x