When making financial changed to a lease, you're required to save your changes by using one of two methods: Revise or Replace. It may be unclear when to use Revise and when to use Replace when you're changing a lease, so we've provided some additional information, best steps, and an example scenario below.
As a general rule, if you have multiple changes during a single month (or other fiscal period), it's best to make them all part of a single revision. So, when you make the first revision, choose Revise; when you make additional changes in that month (before you book the revision), choose Replace, which adds those changes to the month's revision. All changes for the month will be booked at once.
Note: Revise/Replace only applies to financial information; descriptive information is always simply updated as if it were always there. If descriptive information is used to book a lease to a particular division or the like, and you want to move the lease from one division to another, you'll want to do a transfer termination of the old lease, then a transfer addition of the identical lease information, setting the new division.
Revise
Revise is intended for when you've already booked a lease in a prior period, and then you make a change. You don't want to restate the lease from inception, because that would mess up your prior period balances.
Revise makes all changes to the lease happen as of the revision booking date entered (even if the changes reflect alterations to prior activity, like last month's rent), keeping the prior information to be used whenever reports are run for prior dates.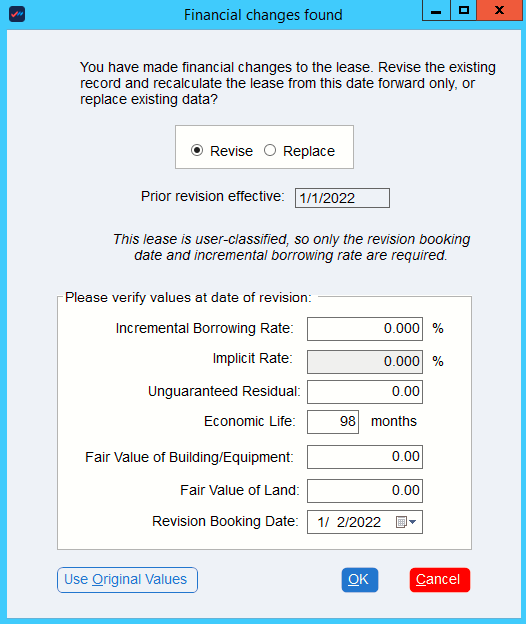 Replace
Replace, on the other hand, restates the lease so that it looks as if the newly entered information was always what was shown for the lease. It should be used if you haven't booked the lease yet (or if you've made a revision already in this period, but make a further change, as noted above).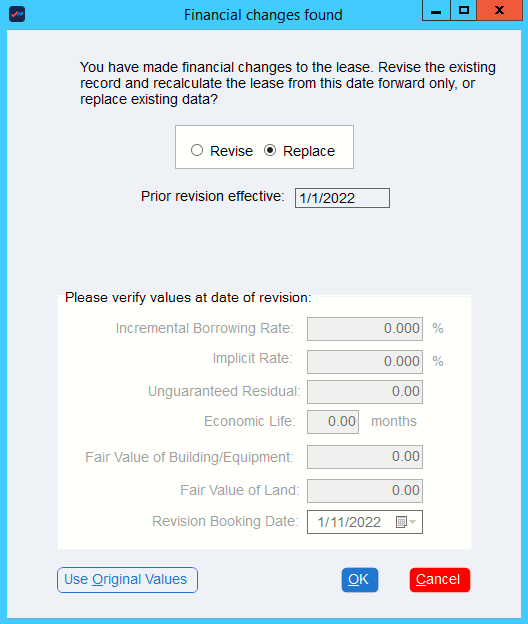 Example Scenario
So, for instance, you first enter a lease on January 13...
On January 15, you decide to adjust it. Use Replace.
On January 31, you run January reports, and book those entries in your GL.
On February 7, you need to make another change. Use Revise (because you've already booked the lease through January).
On February 11, you make another change. Since you haven't booked the Feb. 7 changes, you choose Replace (this will update revision "1" from Feb. 7, not revision "0" entered in January).
On February 28, you run February reports, and post those entries to your GL. If you make further changes, you would again choose Revise.