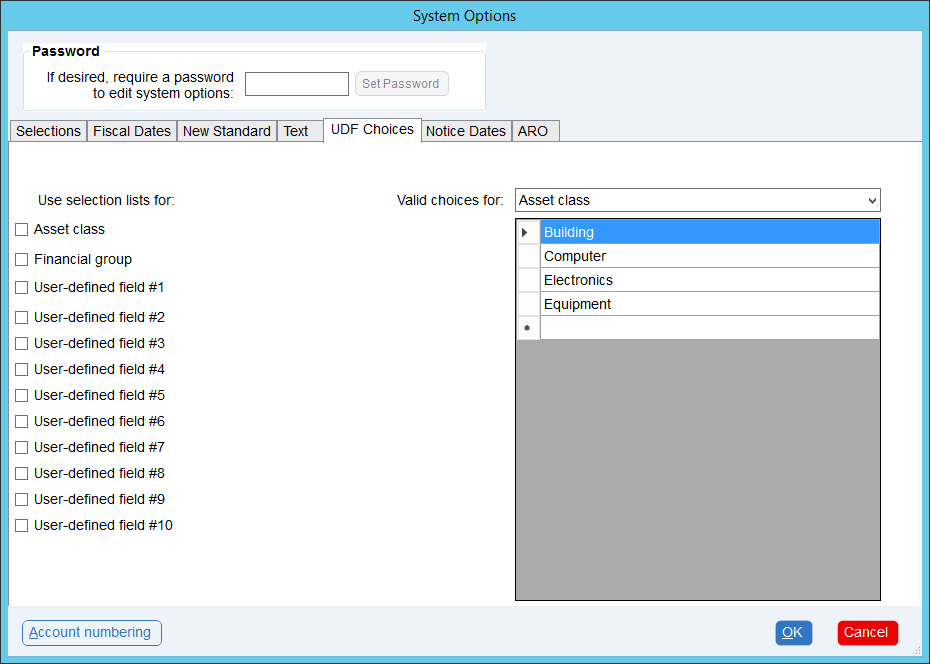 By default, user-defined fields allow you to enter up to 100 characters of descriptive information. These descriptive fields can then be used to group reporting, based off of cost center, location, etc (note that the UDF selection names are set up on the Text tab of System Options).
You may choose to require entries to be selected from a list. To do this, check the box for the user-defined field on the left of the UDF Choices tab, then select the field on the right side of the tab and enter a list of valid choices. You can delete old or incorrect entries by selecting the value and hitting "delete" on your keyboard. There is no defined maximum number on the amount of valid choices that can be added per a list.
You may also create lists for the asset class and financial group fields. These two fields are set up by default, and cannot be changed or renamed. The list choices for these fields can only contain up to 50 characters each.
If you've already entered values into these descriptive fields on specific lease records, and you now want to create a list, you may populate the list with all current values for that field by holding down the Shift key while checking the box to the left of the User-defined field.
Note: User-defined field #1 must be set up in order to use Scope of Access or Record Limiting (On-prem).
Related Links
User-Defined Fields | System Options | User-defined date 1, 2