This tab allows you to enter account number codes for a lease. Account numbers can be set for groups of leases or for individual leases.
Account numbers are shown only on spreadsheet output for Income Statement/Balance Sheet reports (both Detail and Compact formats), Journal Entries, and Depreciation Over Economic Life. These may be used to drive other accounting systems.
To actually display the account numbers in the spreadsheets, go to File > System Options, select Account Numbering, and check the box marked "Include account numbers on spreadsheets." You may add a suffix, stored in a user-defined field, to selected account numbers; this is also set up in System Options.
You may select a standard Account Group or customize one or all account number fields.
Note: Leases can be bulk updated with account number groups (See: Bulk updating descriptive info).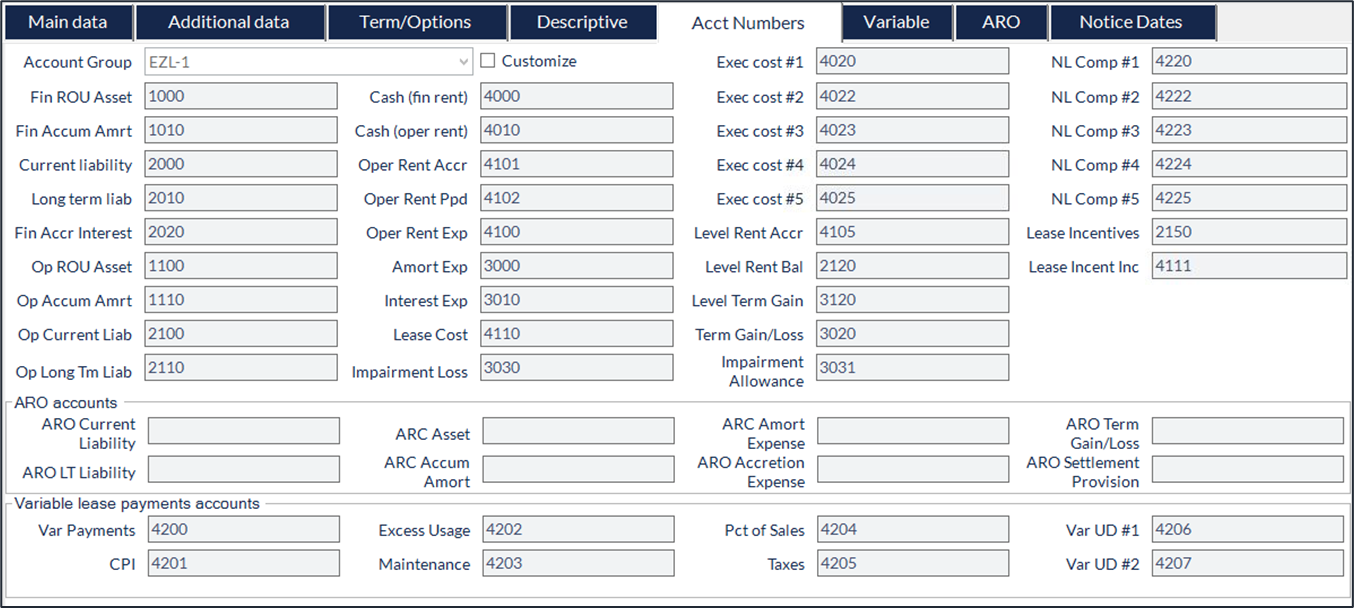 Field

Definition/Format

You may select any account group that has been created in System Options. Once you select a group, all of its account numbers are applied to this lease and the Customize box is automatically cleared, to indicate that the account numbers are those specified in the group. You may choose to make changes from that point by checking the Customize box and altering the individual account numbers. You do not have to select an account group; you can check the Customize box and enter account numbers directly for the lease.

If you use a group for a lease, and later delete the group from the System Options/ Account Numbers list, the account numbers for the lease are changed to Customized and saved as the values they had when the lease was last saved.

You may use the account group as a selection option for reports, chosen from the Special Options tab of any report setup window.

If you want to set account numbers different from those set by groups, check this box. All account number fields are then enabled for editing. If you uncheck the box, all account numbers are changed to the numbers belonging to the currently selected Account Group, if any.

Enter the appropriate account number for each balance sheet and income statement account. Each account number may be up to 50 characters. The account titles are displayed as the column titles in output spreadsheets; you may choose to use them any way you want.

For variable lease payments, the field marked simply "Var payments" is used (in the journal entries report) for the cash credit. The other seven fields are for the debits to various expense accounts.