Exporting lease data
The "Create Review Database" function allows a user to pull a list of lease data, into an Access database, for the purposes of back-ups or migrating lease data to a new instance of EZLease.
To create a Review Database:
On the Help menu, choose

Create Review Database.
A list of lease numbers is displayed. Check the box for the lease(s) you want to copy. Click

OK.




Name the lease database file, and then click

Save.

If you're exporting the account numbers database, you'll repeat this step.


Note: We do not provide explanations of the data layout and meanings for Microsoft Access databases. Additionally, we do not recommend attempting to make changes in that database to reload into the application, as the odds are high of introducing inconsistencies and other problems.
Importing lease data
Importing lease data to cloud
Upload your Review Database to My Files.

While holding down Ctrl on your keyboard, click File > Lease Upload.

Specify the lease database file, and choose Open. All leases are uploaded.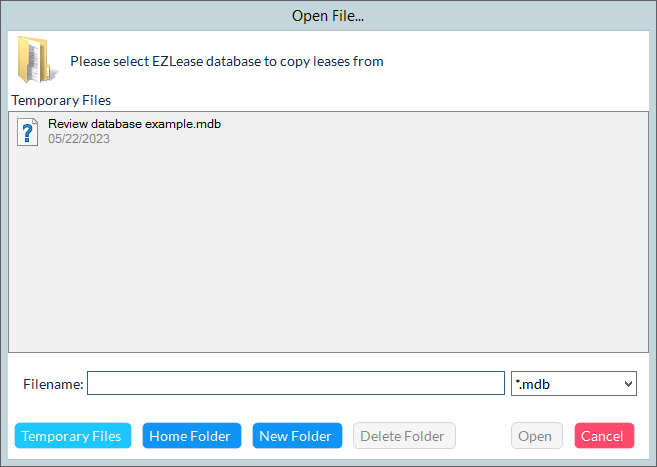 Importing System Options and Account numbers/User-defined field lists
The System Options file (Options.xml) is always placed in the review database as an attachment to the first lease record (found on the Descriptive tab). Save the attachment to My Files. The steps for loading to the new cloud instance:
Click File > System Options.

While holding down the Ctrl key, click the Configuration Options button.

Select the "Copy settings from:" drop-down and choose "Existing Options.xml file." Specify the Options.xml file

If uploading the Account numbers database, click "Browse" and select the correct file.

Click Save. The system options/ account numbers/ UDF lists are uploaded.